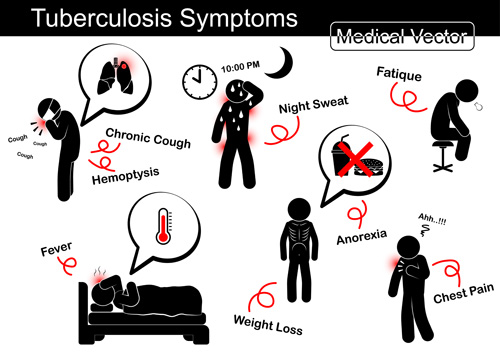 Tuberculosis is a chronic inflammatory infectious disease caused by the bacteria, Mycobacterium tuberculosis. Tuberculosis generally affects the lungs, but can even affect other parts of the body. Most infections are asymptomatic, known as latent tuberculosis. About 10% of latent infections progress to active disease, if left untreated, mostly kills about half of those infected. Symptoms of active TB are chronic cough with blood-containing sputum, night sweats, one weight loss and fever. Infection of other organs can cause a wide range of symptoms including bones and joint pains, chest pain, neurological disorders and chronic pulmonary or respiratory distress etc.
Ø People with reduced immune systems are at highest risk of producing active tuberculosis and dying of the disease, people infected with HIV are 40 times more likely to develop TB.
Ø Tuberculin is the mostly used skin test for diagnosis of TB.
Ø Some antibiotics fail to kill the bacteria completely, as the bacterium becomes resistant to those antibiotics. A majority of TB cases can be treated with antibiotics, such as isoniazid and rifampicin, which are the most powerful, anti-TB drugs.
Ø Fully complete course of DOT treatment can successfully eradicate the infection and reduce the risk of antibiotic resistance developing.
Nontuberculous Mycobacterial infections
Mycobacterium Bovis infections